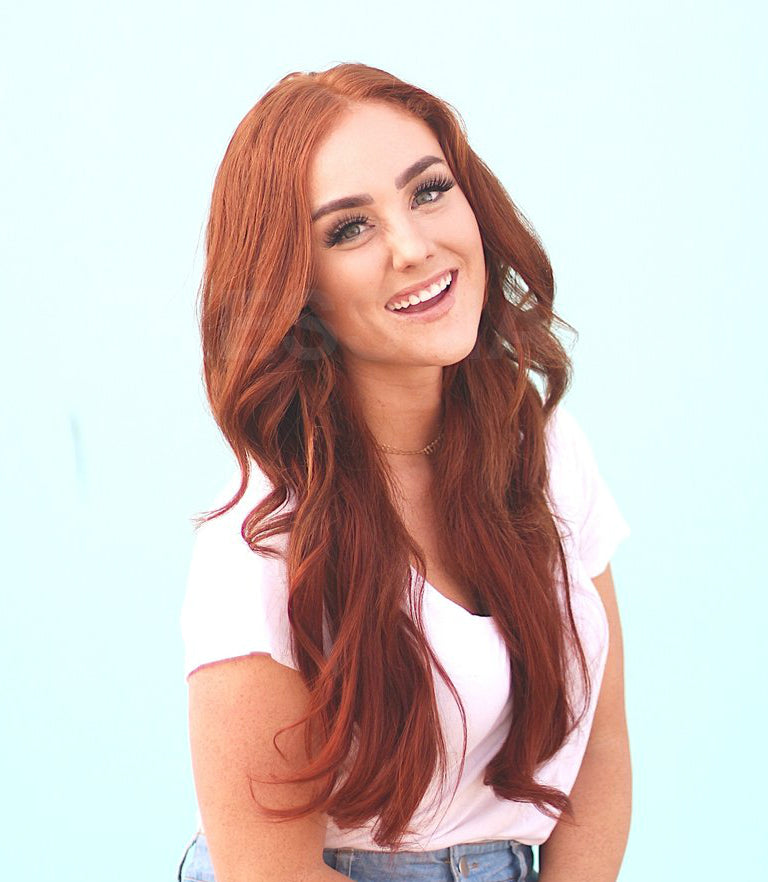 TressMatch™
Artisan 20" Vibrant Red/Burgundy
Shipping& Return:
Free Shipping in the US & 30 Day Eligible Returns
Same Day Shipping:
Orders received before 4:30PM EST Monday-Friday
Gift Wrap:
Available for Free
---
Hair Weft: 100% Remy (remi) Human Hair, thick from top to end
Complete Length: 21"-22" (53cm - 56cm)
No. Wefts: 9 wefts (one 8" wide/4 clips, one 7" wide/3 clips, one 6" wide/3 clips, two 4" wide each/3 clips, four 1.5" wide each/1 clip)
Clips: Pressure sensitive metal clips with silicon coating for secure grip
Product Life: Up to 1 year (depends on usage & care)
Application Time: Approximately 5 minutes (practice is helpful)
Usage: Can be treated & styled (washing, straightening, curling and coloring) like your own hair
Suitability: Sufficient for customers with fine type of hair to add length & volume with one set (120grams/4.4oz)
(To further ensure a color match you may send us your hair pictures taken in outdoor lights to reflect true colors)
Deep Red or Burgundy is a trendy color favored by many celebrities and models such as Cheryl Cole, Ariana Grande and Demi Lovato. Our Artisan set is designed to enhance your hair look by adding long flowing hair by yourself in minutes without the hassle of glues, tapes or weaves. The high quality human hair not only ensures your natural look but can be styled just like your own hair, resulting in your locks that look fuller, thicker, longer and healthier.
The pressure sensitive clips are securely to grip, comfortable to wear and easy to apply. Since they are very light, you can even expect our sets to have 15% more hair than other sellers at this weight. The wefts are also kept thick from the top to the end, ensuring you get the decent bottom thickness without the need to trim much at the ends.
The 9-piece combination for each set offers a lot of flexibility and versatility. The three wider wefts (9", 7" and 6") are designed to fit with a wide range of customers who are different in head size, hair thickness and style preference. Even with the four 1.5" wide pieces alone, you have the flexibility to use all of them for volume or simply creating hair streaks and highlights, or use some of them for your desired look, or use two of them just as testers before you style the whole set.
Unbelievably versatile styles you can create, at an unbeatable price you can afford!
More Questions? Email us at
infotressmatchstore@gmail.com
or call at
914-633-3222
(9am-5pm EST Monday through Friday). 
The way you care for human hair extensions is not much different from the way you care for your own hair. Just keep in mind that they need extra nourishment and extra care as they have been color treated and can no longer get nourishment and hydration from roots unlike our growing hair on scalp. So,
Always brush your hair extensions gently with fingers or a soft bristle wide-tooth brush before and after use.

Lightly wash them infrequently, or after every 10-20 wears, or when they get too tangled and frizzy, or when there is much built up and they become unmanageable to style.

Wash in lukewarm water, then apply a small amount of shampoo. Rinse out the shampoo and apply a conditioner for 4-5 minutes. Rinse thoroughly. Allow to air dry.

Always use a heat-protecting spray when using hot tools such as flat irons and curling irons (temperature not set over 350ºF). A regular cloth-use iron is also ideal to iron hair if the temperature is set between "silk" and "wool" without steam.

Use moisturizing and repairing shampoos, conditioners or leave in creams (particularly for color treated hair, e.g., Moroccanoil, sleek-serum CHI, Osis, etc.)

While generally we don't recommend to re-color/dye the hair especially bleaching it, you may mildly make the hair darker or alter its color with a professional brand of dye and a 10-volume peroxide that deposits color only.
For more tips, please click on the "

Hair FAQs

"page 
Typically looking at our website is enough to find a color match as we do our best to take product photos in natural lights to reflect true colors. And our return policy allows you to return it for exchange even if there is a mistake made. However we provide more ways for you to find the match.
     1. Email us 2-3 true color photos or Mail us your real hair sample
If you email us photos (the most convenient way), please make sure that photos of your hair cover from the top part of your hair to the bottom and are taken in outdoor natural light without flash (but NOT directly in the sun).
Please be aware that hair colors tend to be different in pictures with its background colors, lights, and even photo-taking distances.
So it's important to make sure they reflect your true hair color tones. Then we'll match the color for you.
     2. Get a Free Color Ring Loan
         1) Add a color ring to your shopping cart, and pay it just as you would for a regular purchase.
        2) After receiving the color ring, please compare the color swatch of the color ring to your own hair to get the best possible match.
        3) Mail the color ring back to us within 10 days. We'll issue refund for it if it's properly kept in original conditions upon receipt of it.
Our mailing and return address is:
Hair Beauty Supply LLC 
85 Crescent Ave, New Rochelle NY 10801
 3.  LOCAL VISIT, PURCHASE, PICKUP OR EXCHANGE SERVICE AVAILABLE
We are located in the downtown New Rochelle (close to the city train station at 85 Crescent Ave, New Rochelle NY 10801), a city just north of NYC. Nearby customers are welcome to stop by, purchase in store, pick up online orders or exchange orders, etc..
Orders placed (payments received) before 4:30pm EST Monday through Friday, or before 1pm EST Saturday, will be shipped out on the same day. USPS delivers on weekdays & Saturdays while UPS delivers on weekdays only.
Also, **LOCAL VISIT, PURCHASE, PICKUP OR EXCHANGE SERVICE AVAILABLE**
We are located in the downtown New Rochelle (close to the city train station at 85 Crescent Ave, New Rochelle NY 10801), a city just north of NYC. Nearby customers are welcome to stop by, purchase in store, pick up online orders or exchange orders, etc..
Mailing Shipments Delivery Frames & Estimated Fees:
 

USPS First Class

USPS Priority

UPS 2nd Day

Next Day/Overnight

US Continental

2-4 business days/free shipping

2-3 business days/$6.48

2 business days/$19.99

(guaranteed)

Next Day/$27.99

 

US-AK, HI & PR

3-5 business days/free shipping

2-3 business days/$6.48

2-3 business days/$19.99

(guaranteed)

1-2 business days/$27.99

 

Canada/Mexico

5-8 business days/$14.99

N/A

N/A

1-2 business days/$29.99

Europe/Oceania/Asian/Others

7-15 business days/$20.99

N/A

N/A

2-3 business days/$39.99
 For more details, please click on  "Shipping & Delivery" policies. Please note: Overnight delivery is not 100% guaranteed for all domestic areas, affected by specific destination conditions (e.g., remote or extended delivery areas classified by USPS/UPS, or uncontrollable weather, traffic or road conditions during delivery). Each case is determined by USPS or UPS and we are not responsible for such delays.
Please feel free to return hair extensions for exchange or full refund within 30 days of delivery if the instructions below are followed to keep them in original conditions.
"Upon receipt of your order, you may inspect the hair quality and color by gently taking the cardboard with extensions out of the plastic bag, taking off the net, and touching the hair and matching the color with your hair. At this step, if you decide not to keep it, please contact us promptly for return or exchange. Please Do Not open the golden security ties holding the extensions together, or remove the extensions from its supporting cardboard, or alter, spot, spray or perfume anything on the extensions and packing materials; otherwise the item may not be eligible for return. You should gently push the cardboard with the extensions/nets slowly into the bottom opening of the plastic bag and then throughout its body. Then shake a little bit to make sure everything is back to its original packaging conditions, and seal the plastic bag."
Please be assured that our product quality is guaranteed. We are happy to offer replacement at no cost to customers, if, for any reason, the hair you've received happens to have any defective issue.
LOCAL VISIT, PURCHASE, PICKUP, EXCHANGE OR DELIVERY AVAILABLE
We are located in the downtown area of New Rochelle (by the I-95 and close to the New Rochelle Train Station), a city just north of NYC. Nearby customers are welcome to visit us for purchase, pick up or exchange for your order in person in case you need to catch an event in a hurry, or you find it's kind of hard to find the right color extensions just based on pictures and computer screens.
We are open 9am-6pm EST Monday through Friday and 11am-1pm Saturday. If you are not available during these times, please simply email or call us for an appointment time to come, or ask us do the delivery for you. We'll do our best to accommodate your schedule. 
More questions, please email us at infotressmatchstore@gmail.com or call 914-633 -3222, or click on the "Return & Exchange" Policies
---
Share this Product